Aidan Charde
Why Cam Newton isn't a good fit for the Patriots
Ever since Tom Brady announced that he was ditching the red, white and blue for the red, white and pewter last month, there's been an open debate as to who his successor in New England will be.
Some of the most popular options have already gone elsewhere. Philip Rivers signed with the Colts, Teddy Bridgewater went to the Panthers, and Nick Foles was traded to the Bears. But a few still remain available, most notably Jameis Winston and Cam Newton, and recently, Newton has been the most likely option to the media.
As it sits right now, the Patriots' quarterback battle is between Jarrett Stidham, who they drafted last year, and Brian Hoyer, who's back for his third stint in Foxboro. Neither of them seem like players you'd want to have as the face of your franchise, based on how they've performed in previous seasons.
Realistically, they don't have the cap space for a star quarterback and they're too far down in the draft to get one of the top quarterbacks in the draft. But even if the Patriots could add Newton, should they?
I don't think they should. Outside of some notable exceptions–Randy Moss, Chad Ochocinco and Antonio Brown, to name a few–the Pats have rarely ever gone after players that have any sort of big personality. It's usually worked out pretty well for New England when they pass on the big names and take the cheaper alternative, they have six Super Bowls to show for it.
Cam Newton gets sacked by Kyle Van Noy (image courtesy of the Charlotte Observer)
Cam Newton might not be on the level of any of those players personality-wise, but he still does like to taunt and trash talk other players, something Belichick's players don't tend to do too much. Even the aforementioned Moss, Ochocinco, and Brown were relatively subdued when they were on the Patriots.
Hell, just a month after leaving the Patriots locker room, Brady is already talking about his former teammates' dick sizes.
But the difference between Newton and the others is that Newton does not have nearly as much skill to back up his words as the other three do. Randy Moss is allowed to say whatever he wants, because chances are, he's better than you. Cam Newton is not like that. He's a good quarterback, no doubt, but he's not unbelievable.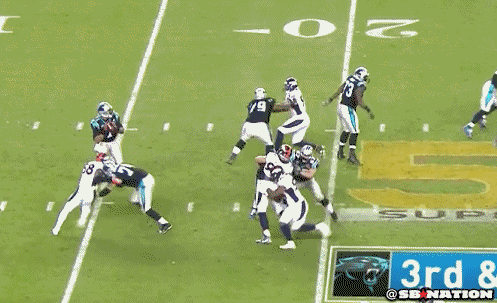 This gif describes itself (courtesy of CBS and SBNation)
Additionally, and most importantly, it's hard to imagine a shift so drastic to go from the pocket-passer style of Brady to the scrambling Newton in just one season. The offense simply isn't set up in a way that would benefit Newton unless he ran less and threw more.
Even last season, though, Tom Brady was struggling to complete passes to the decimated New England receiving squad. Would Cam Newton, who is just coming off of his second shoulder surgery, be able to complete deep passes downfield to a team that couldn't catch them from an accurate quarterback? Can he withstand another 20, 30, 40 hits? Even if you get him for really cheap–is he worth it?
It's up to the Patriots to decide, and something tells me that, contrary to what all of Boston seems to think, Newton will not be a Patriot in 2020, or ever. It's honestly hard to imagine any team taking a risk on an injury prone semi-diva coming off of an offseason shoulder surgery, but one thing football has taught me is that there's always a team desperate enough.
Unless you're Colin Kaepernick.